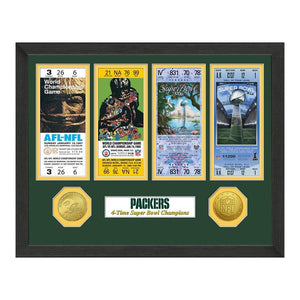 Green Bay Packers SB Championship Ticket Collection
Green Bay Packers Super Bowl replica Tickets from each Championship are featured in a 12 x 15 wood Frame with double matting with a solid Bronze Super Bowl 4 Time Champions Commemorative Coin and a solid Bronze NFL Coin.
Each frame is accompanied by a Certificate of Authenticity.
Officially Licensed by the NFL. Proudly made in the U.S.A!